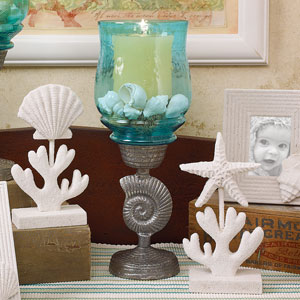 Nautilus Pedestal Candle Holder ON SALE!!
Item Number: 45725
SALE!! OVER 45% OFF!! The metal base of this nautilus candle pedestal has a pewter-look finish and comes with this beautiful aqua-colored glass globe (hurricane). The coordinating seahorse candle pedestal holder is also available(item# 45734). If you like these, don't miss the starfish square glass jar(item# 45713) and the nautilus square glass jar(item# 45719).
Measures: 4.5" x 12.5"
$38.99 $19.99
Product in stock