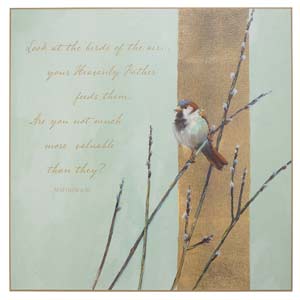 Sparrow Willow Print ON SALE!!
Item Number: 72005
SALE! 40% OFF!! This print is unique! The durable stretched canvas look creates a beautifully serene look on a wall. A sparrow is perched calmly on the budding willow. The print states a promise from Matthew 6:26, "Look at the birds of the air... your Heavenly Father feeds them. Are you not much more valuable then they?" A good daily reminder!
This is an over sized item and and cannot be placed on an express order.
Measures: 18" x 18"
$75.00 $45.00
Product in stock